16.03.2017
What's new in the ports of Var-Provence?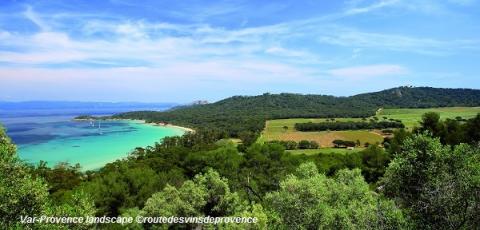 VAR-PROVENCE, Wander in Wonderland
Located along the Mediterranean Coast, between beautiful hills and dreamy sandy beaches, Var-Provence offers many assets. Did you know that Var-Provence is the sunniest area of France and the second largest tourist destination after Paris? Var-Provence is also the second most forested area of France while offering 249 miles (400 km) of coastline. But its greatest blessing is the wide range of activities available from its ports located in both Provence and French Riviera.
The new face of shore excursions
The Var Provence Cruise Club* (VPCC), which is in charge of promoting the destination Var-Provence and its ports, is closely working with tourist authorities and local stakeholders. "The tourist offices and local producers have a perfect knowledge of the area while the VPCC has a strong expertise in cruise development" says Laurence Cananzi, Deputy Chairman of the Var Chamber of Commerce and Industry and Chairman of the VPCC. "That's why a partnership is the key to meeting the expectations of cruise passengers and cruise lines, in particular regarding shore excursions".
As a result of this work, new excursions exclusively dedicated to cruise guests are available in 2017. The Opera House of Toulon – made in the spirit of the Second French Empire style – is now open to visitors but exclusively for groups of cruise passengers. Likewise, only cruise visitors can enter inside the emblematic Royale Tower of Toulon, a 16th century military fort, with its rock-cut architecture and fascinating history.
"Thanks to its network, the VPCC can uncover some surprising sites, not known to tourists - yet" says Anne- Marie Blum, VPCC Manager. A good example is the Domaine d'Orvès, a private estate where a typical "Bastide" stands amid a majestic Provençal garden (awarded the "Outstanding Garden" label by the French Ministry of Culture). This hidden pearl is now available for a journey dedicated to Nature, Art, Gastronomy and Botanic.
The focus on authentic local experiences include the creation of "Arts and Heritage" walking tours at Hyères, Le Lavandou or Bormes-les-Mimosas. The idea is to meet local artists, craftsmen and producers through their "savoir-faire".
Experiencing some activities from a new perspective is also possible: touring a wine estate can turn into horseback riding or picking grapes with a winemaker.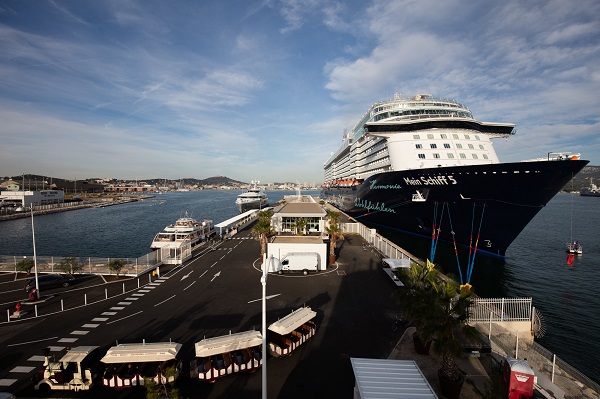 Cruise Terminal of La Seyne sur Mer ©Ports of Toulon Bay - CCI
2016, a record year in Var-Provence
The renewal of shore excursions is a key part of the development of cruise activity in Var-Provence. Last year saw a record 278 calls (23 maiden calls), 362 479 passengers and 32 cruise lines. Smaller ports such as Sanary-sur-Mer, Bandol and Saint-Raphaël are emerging while Fréjus and Cavalaire will accommodate their first cruise ships in 2017.
Traditional Provençal ports attract luxury cruise brands because of their quality; easy access; unspoilt environment; and location as gateways to Provence and the French Riviera. The ports of the Embiez island and Porquerolles island are National Parks.
The Ports of Toulon Bay (Toulon/La Seyne-sur-Mer) are incontestably the leaders of Var-Provence, hosting 49% of the calls and 77% of the passengers. Their high security standards, including full ISPS compliance and the presence of the French Navy base in the Bay, as well as their advantageous geographical position that allows cruise vessels to berth under all weather conditions, make them a first-choice destination.
The Var Chamber of Commerce and Industry – manager of the Ports of Toulon Bay – have made significant investments to develop excellent infrastructures able to accommodate the mega-ships. 2016 was a turning point with the inauguration of a brand-new cruise terminal at La Seyne-sur-Mer and important renovation works at Toulon City-Centre's cruise terminal.
The Ports of Toulon Bay are set to host the prestigious MedCruise General Assembly in October 2017. In line with MedCruise tradition, all regular and associate members will have a first-class opportunity to discuss the developments in the region. They will also devote time in B2B meetings and interactive workshops with cruise line executives. About 120 delegates are expected in Toulon for four days of creative exchange program and fun!
* The Var Provence Cruise Club (VPCC) is a public body launched in 2008 by the Var CCI and the Var General Council to promote the Var area as a major touristic destination, as well as its cruise ports located in both Provence and French Riviera. To date, Saint-Cyr-sur-Mer, Sanary-sur-Mer, Bandol, Les Embiez, Ports of Toulon Bay (Toulon/La Seyne), Hyères, Porquerolles, Le Lavandou, Cavalaire, Saint-Tropez, Fréjus and Saint-Raphaël are part of the network. 
236, boulevard Maréchal Leclerc – CS 90008 – 83107 Toulon Cedex