10.04.2017
Port of Tarragona welcomes Silver Muse on her maiden voyage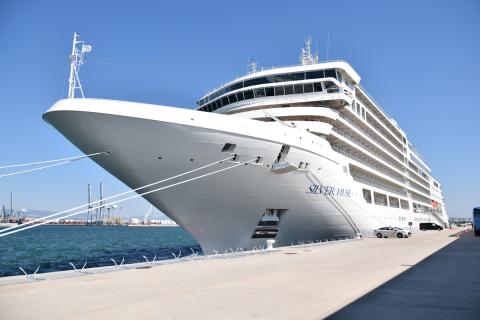 Port Tarragona welcomed yesterday the luxury cruise ship Silver Muse, the flagship of Silversea Cruises, on her maiden voyage.
The first cruise call of the season for Tarragona Cruise Port season Costa Daurada had 400 US and European travel agents and journalists aboard, who enjoyed a tour of Roman Tarragona and the historic city centre, and visited PortAventura for an exclusive tour of the first Ferrari Land theme park in Europe.
The cruise guests also had the opportunity to attend the debut test of the vertical accelerator – at 112 meters, Europe's tallest roller coaster – Formula 1 simulators, two 55-metre accelerated drop towers, and the electric vehicle circuit.
Tarragona Cruise Port Costa Daurada's best cruise season to date
The Port of Tarragona will host 40 cruise calls this year, involving a total of 40,000 passengers. This summer, from June 2 to September 22, Costa Cruises will operate in the Port of Tarragona for the first time, with departures every Friday catering for 1,725 passengers.