25.01.2018
Cruise Partner of the Week: Alfaship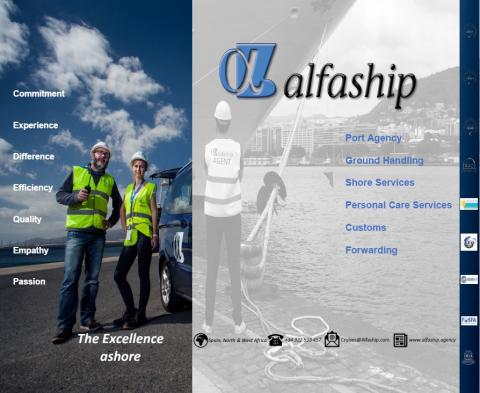 Alfaship Cruise Division is an experienced agency offering shoreside and port services to the Cruise Industry.
The Company relies on a dynamic Cruise specialists' team with more than 10 years of experience in the Cruise Industry, working with the leading Cruise Companies with the excellence of behaviour.
With a wide knowledge in turnaround and transit calls, ground handling services, a 24/7 service, a first class customer care, a can-do attitude at all times, and a large network of offices and agencies in Spain, Alfaship makes the difference caring its Customers' standards ashore, focusing on their needs, striving for the best.
Alfaship, the Excellence ashore.
Contact details

ALFASHIP Management Team
Mr. Eduardo Ferran
Managing Director
Mr. Antonio Castañeda
Regional Manager Canary Islands & Gibraltar
Ms. Florence Touchard
Tenerife Branch Manager & Cruise Division Manager
---
Mailing Address
Alfaship Shipping Agency
Plaza de la Candelaria, n.1
Edificio Olympo - Office 284
38003, Santa Cruz de Tenerife
Spain
P +34 922 53 34 57
F +34 928 98 06 50  / +34 922 29 95 11