02.08.2017
Adriatic Ports components inscribed on the UNESCO World Heritage List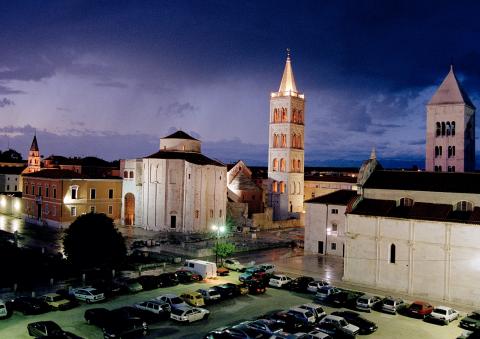 In January 2016, Croatia, Italy and Montenegro submitted to UNESCO a nomination for the inscription of the transnational serial cultural heritage "Venetian Works of Defence between the 16th and 17th centuries" to the World Heritage List.
After a long and demanding process of drafting the appropriate documents and evaluating the nomination, the World Heritage Committee, on its session held on July 9th of this year in Krakow, Poland, issued an opinion endorsing the decision to inscribe this complex heritage on the World Heritage List as the following components: the fortified city of Bergamo, the fortified city of Peschiera del Garda and the city-fortress Palmanova in Italy; the defensive system of the city of Zadar and the Fortress of St. Nicholas in Šibenik-Knin County in Croatia, and the city of Kotor in Montenegro.
The inscribed heritage "Venetian Works of Defence between the 16th and 17th centuries" represents the organization, formation, adaptation and implementation of the innovative "alla moderna" model of military architecture whose purpose was the defence of the trade routes and ports in the Adriatic and the east Mediterranean. After the changes conditioned by the introduction of the gunpowder, the elements of the "alla moderna" system showed its technical and logistical advantages, modern military strategies and new architectural demands in a remarkable manner.
The six mentioned components of the proposed transnational serial cultural heritage of the Venetian defence system contain attributes of remarkable universal value, including their typological diversity, visual integrity and preserved condition, thus fulfilling criteria III and IV required for the inscription on the World Heritage List.
This is great news for MedCruise destinations and especially for those located in the Adriatic Sea, including the ports of Zadar, Sibenik, Kotor and Venice.
Photo: City of Zadar, 'Zadar was the military and administrative centre of the Adriatic part of the Republic of Venice, and the centre of navigational routes between Venice and Corfu, Greece.  It is located on a peninsula fortified by the city walls with a series of bastions and curtain walls and an outer fortress overlooking the land. Neither the later changes have diminished the remarkable significance of its forts. The defence of the city on the peninsula still preserves an extraordinary accumulation of walls and structures upgraded over time: monumental Land Gate – a master piece of the high Renaissance, strong city walls and bastions which demonstrate the "alla moderna" military architecture.'