08.09.2017
Intercruises Completes Phase 1 Development of SafeAshore™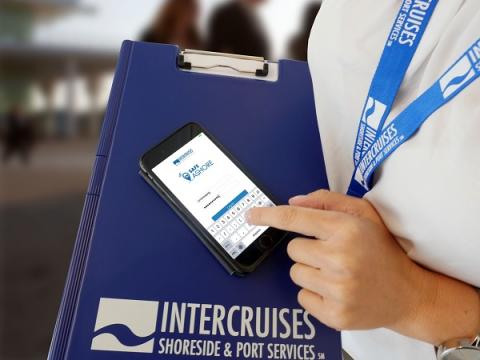 EUROPEAN ROLL OUT OF SHOREX SAFETY SYSTEM TO BEGIN FOLLOWING SUCCESSFUL MARSEILLE TRIALS
Intercruises Shoreside & Port Services, an experienced global business offering ground handling and port agency services to the ocean and river cruise industry, has completed the development of SafeAshore™, a new system designed to help further enhance the safety of shore excursion guests and guides. Following five months of development, trials were successfully carried out in August 2017 during shore excursions in Marseille, where the system is live and being used by the local Intercruises team.
SafeAshore™ enables Intercruises and cruise line teams to track tour groups' locations at any time and provides a single and secure communication channel for instant messaging between guides and the Intercruises team. The system is also pre-loaded with information to aid incident response, including local emergency phone numbers and a map highlighting nearby 'safe places', such as police stations or hospitals.
"Safety is a priority for Intercruises and SafeAshore will enhance our ability to respond to incidents during our shore excursions, enabling more timely, informed and efficient incident management. This is an innovative, yet simple solution that has been developed based on the real incident experiences of our own teams and in response to concerns raised in recent years by cruise lines, ports and destinations. A huge thanks to our guides and the local Marseille team in completing the successful SafeAshore™ trials." Said Olga Piqueras, Managing Director, Intercruises Shoreside & Port Services.
SafeAshore™ is a two-part system, consisting of a mobile and web application. Guides install and log into theSafeAshore™ mobile application, entering basic details specific to their tour to make it active. Active tours are visible to Intercruises and cruise line teams on the web application, with real-time locations displayed on a map. SafeAshore™ runs in the background on guides' phone and constantly sends location data, which is recorded on the web application and stored for reporting purposes. Once a tour is completed, the guide logs out of SafeAshore™ and the application remains dormant, no longer collecting data, until the next login. 
"I was happy to be involved in this project and see the value the system can have during an emergency and also  in everyday operations, such as informing other guides or the port team of heavy traffic." Said a guide from Marseille involved in the SafeAshore™ trials.
SafeAshore™ is being updated with information for other destinations as availability of the system is expanded across France and the Mediterranean during 2017, with implementation in other regions planned for 2018.  
For more information regarding SafeAshore™, please contact Intercruises by sending an email to i.intercruises@intercruises.com
About Intercruises Shoreside & Port Services
Intercruises is part of Destination Services, a Hotelbeds Group business unit. Intercruises is one of three businesses that make up the Destination Services business unit, along with Pacific World, an award winning event management company, and Destination Services, a global DMC of local experts crafting worldwide experiences. Hotelbeds Group is a business-to-business provider of services to the travel industry globally. In addition to the Destination Services division, the Group operates mainly under the Hotelbeds and Bedsonline brands, which connect 35,000 travel intermediaries across more than 120 source markets globally with travel providers in over 180 countries representing more than 120,000 hotels, 20,000 transfer routes and 14,000 activities. In September 2016 the company became independent under the ownership of Cinven and Canada Pension Plan Investment Board (CPPIB). In June 2017 Tourico Holidays became part of Hotelbeds Group, operating as a business unit within the Group whilst its integration progresses. The company is headquartered in Palma de Mallorca, Spain and has 6,150 employees working across over 150 offices globally.
For further press enquiries please contact: