20.10.2017
51st MedCruise GA: The Major Cruise Event in the Med concludes successfully in Toulon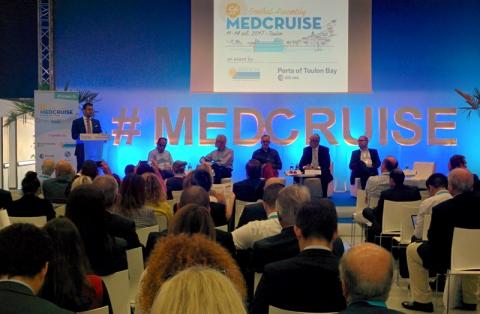 More than 170 cruise industry professionals and port executives gathered in Toulon last week, to discuss the latest developments in the sector and also the implications and prospects of cruising in the Med and its adjoining seas.
With the participation breaking all previous records, the event offered to all member representatives a first class opportunity to join B2B meetings with 13 cruise line executives and 6 international press representatives, as well as enjoy interactive sessions with cruise industry experts.
Among the esteemed guests, CLIA Europe Secretary General Tom Fecke joined the panelists of the opening session in discussing the prospects of "The Med in a Globalised Cruise Market". Members of the panel included Giora Israel, Carnival Corporation & Plc; Bruce Krumrine, Holland America Group; and Miguel Reyna, Royal Caribbean Cruises, Ltd.

During the plenary sessions, MedCruise delegates had also the chance to discuss the best ways to "Develop a Cruise Supply Chain" and "Achieve Operational Excellence" in Med ports, while MedCruise members got to learn from esteemed cruise line executives the secret recipe that allows Mediterranean destinations to "Be part of a cruise Itinerary".
Members of the panels included Marc Berberian, Compagnie du Ponant; Adria Bono, Silversea Cruises; Mike Bush, Holland America Group; Silja Eisbein, TUI Cruises; Andrea Fiori, Costa Crociere S.p.A; Sander Groothuis, Windstar Cruises; Javier Marin Martinon, Pullmantur; Craig Milan, Virgin Voyages; Michel Nestour, Carnival Corporation & Plc; Marcus Puttich, TUI Cruises, as well as the MedCruise member representatives Jerome Giraud, Ports of Toulon Bay and Mihailo Vukic, Allegra Montenegro.
Discussions also included the colllaboration of airports and ports during a special session with the participation of Maud Astesano, Responsible for Marketing at Toulon-Hyères Airport.
A highlight of the event was the awarding of MedCruise Honorary President Stavros Hatzakos for his 21 years of contribution, leadership and inspiration to the cruise port industry.
The 51st MedCruise General Assembly also elected Airam Díaz Pastor, Commercial Director of Ports of Tenerife to be the new President of the Association representing ports and stakeholders related to the cruise business in the Mediterranean and its adjoining seas.
The members of the Board of Directors for the period 2017-2020 are: Corfu, Aris Batsoulis elected as Senior Vice President; Brindisi, Laura Cimaglia elected as Vice President; Constantza; Genoa/ Savona; Gibraltar; Istanbul; Kusadasi/ Bodrum/ Antalya; Palamós; Piraeus; Sardinian Ports; Tunisian Ports and Volos.
The excellent organisation and the unique hospitality of Ports of Toulon Bay and Var Provence Cruise Club added to the satisfaction of MedCruise members, who -after enjoying a glorious time in beautiful Toulon- returned home looking forward to attending the forthcoming 52nd MedCruise General Assembly to be held in Valletta, Malta, 23-26 May 2018.
For more information on the event, please contact secretariat@medcruise.com.