13.12.2017
Port of Zadar Authority publishes concession notice for passenger terminal operation services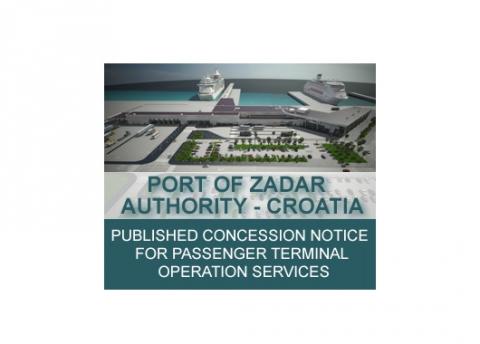 Port of Zadar Authority has launched a tender for providing services to passengers, use and maintenance of port infrastructure and port superstructure facilities in the port area open for public transport of particular (international) economic interest for the Republic of Croatia – Port Gaženica, Zadar. Concession tender document was published on November 17th 2017 (Concession Notice no.: 2017/S 01K-0023912).
Port of Zadar completed in 2015 the building of new infrastructure in the area of New Port of Gazenica while port operation activities started in April 2016. With the completion of its brand new infrastructure, the port meets all necessary requirements to receive ships of all sizes, allowing, thus, Zadar and its neighbouring area to further develop as a tourist destination.
The terminal building, which is expected to be ready in March 2018, is designed in order to facilitate local and international ferry traffic, as well as the hosting of homeporting activities.
Meanwhile, in 2017, MedCruise member port of Zadar recorded impressive increase in terms of passenger traffic. The number of cruise and ferry passengers until mid September already exceeded 2 million pax.
For 2018, the port expects a new -once again remarkable- increase, especially in the number of cruise passengers (more than +20%).
For more information on the call for tenders please follow this link.