06.12.2017
Tarragona Cruise Port: Record year for cruising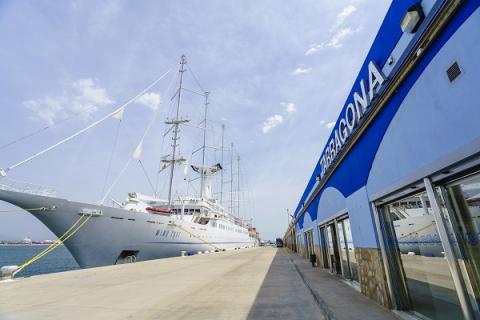 The Port of Tarragona achieves a record in 2017, with 51,390 cruise passengers and almost 40 cruise ships. The forecast for 2018 puts the figures at 80,000 cruise passengers (+56% annual growth) and 55 cruise ships.
The Port of Tarragona has brought the cruise season to a close with record-beating numbers that exceed the expectations set, with 51,390 cruise passengers, representing an increase of 284% over last season. With regard to the number of cruises, this year 37 ships have made a stopover in Tarragona, compared with 22 in 2016. Over 51,000 passengers, of which 37,000 are transit and 14,000 base port passengers, have generated an economic impact of 3.9 million euros in the region.
The profile of the passengers can be seen to be a family one, with an increase in passengers of between 35 and 54 years of age, with these making up nearly 42% of the total. By nationality, 38% are Italians, 23% Spanish, 13% British, 5% French, 7% grouping together Germans, Austrians and Swiss and 9% of other nationalities.
Most of these passengers, 95% of the transit guests, choose to visit Tarragona and the region. There has been a significant increase in the excursions contracted, and the assessment made by the passengers has been highly positive, with a score of 9 for Tarragona. According to the assessment of the passengers, more than 90% consider that the destination of Tarragona meets or exceeds their expectations, with 89% saying they would certainly recommend the destination.
Forecast for the 2018 season
The Port of Tarragona foresees a continued commitment by the cruise companies, and the forecasts for 2018 put the figure at 55 cruises, representing an increase of 49% over the current year, and 80,000 passengers, which would mean an increase of 56%.
This increase is due, in large part, to the fact that the shipping company Costa Cruises, which has Tarragona as a base port, has decided to change this year's cruise ship, the Costa neoRiviera, with a capacity for 1,727 passengers, for the Costa Victoria, which can berth up to 2,394 passengers, leading to a very important increase in the number of passengers arriving in the Port of Tarragona.