05.02.2018
Cruise to Burgas !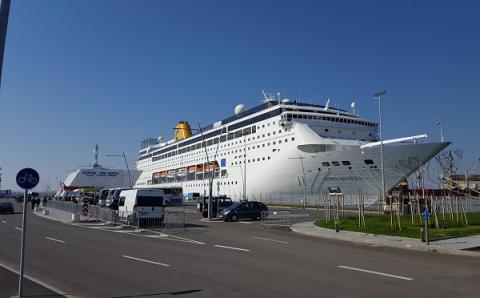 ​Cruise tο Burgas !
Burgas is the fourth largest city in Bulgaria, situated on the Black Sea coast. It has an Inernational Airport, Maritime Station, Railway Station and Bus Station. The rich historical heritage, natural and cultural sights and attraction make it a preferred destination for tourism.
East of the city is the Black Sea, and to the west are three lakes which are protected natural areas. Within the city is located one of the oldest hot mineral springs and south of the city is Strandja Mountain. Burgas Bay has a long beach of fine golden sand, clean water and pleasant breezes. The climate is humid subtropical with marine and continental influence. The average air temperature in summer is 22.7 °C, maximum daily temperatures above 20 °C are found up to November.
In Burgas tourists can see the rich expositions of the Historical Museum, the Archaeological Museum, the Natural History Museum, and an ethnographic exposition also. Close to the city is the UNESCO World Heritage town Nessebar, the ancient Sozopol, the architectural and historical reserves of Brashlian and Zheravna, the Island "Saint Anastasia" and the archaeological complex Aqua Khalide. Archaeological research has revealed ancient settlement mounds from the Neolithic, ruins from the Roman cities, Byzantine and medieval castles, churches and monasteries.
Burgas port is the first Bulgarian Port, also the largest contemporary port, and the modernization is a continuous process. It has a Passenger Terminal. The 10 mtr. berth depth allows the largest ships sailing.
In the Black Sea to call. Currently renovated is a hundred year-old indoor port warehouse 'Magazia 1' with a unique riveted under-roof construction type  'Eiffel'. There is situated a second passenger terminal built with a shopping centre, restaurants and places for cultural events.
Furthermore, the surrounding area has a new transport scheme, parking lots, bike lanes, recreation and green spaces. The complex is complemented by one of the most contemporary coastal management maritime centres. The Expo Center, now being built is due to hold the MedCruise General Assembly in 2020.
Must see tourist attractions
• Nessebar/UNESCO (37km)
• Sozopol (33km)
• Archaeological Reserve Zheravna (117km)
• Archaeological Reserve Brashlian (62km)
• Aqua Khalide Teromopils (15km)
---
Port Facts
Maximum ship dimensions for berth
Length: 300mtr
Width: no limit
Draught: 10mtr

 

Anchorage
Available: yes
Ship tenders allowed: yes
Tugs available: yes
Tidal movement/range: n/a

 

 

Quays
Total number of quays: 4
Total length of quays: 630mtr
Quay depth: 10mtr
Passenger terminals: air-conditioned lounge for passengers

 

Distances/Transportation
City centre: 10min walk to downtown
Airport: 10km

Traffic
Total cruise passengers 2017: 1,925
Total cruise calls 2017: 2
Total cruise lines 2017: 2
Turnaround port? no

 
Port Contact details