26.03.2018
Var Provence, France: a friendly cruise destination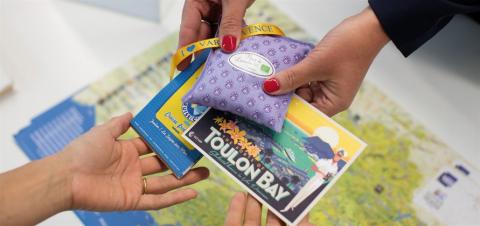 Launched in 2013 at the Ports of Toulon Bay, Var Provence Cruise Club's (VPCC) 'Cruise Friendly' marketing initiative is fast gaining international recognition and in 2017, earned the organisation a place in the final at a major industry awards ceremony.
The 'Cruise Friendly' label is granted to local tourism providers and storekeepers who comply with certain requirements catered to visiting cruise passengers. It recognises their commitment to delivering the best possible welcome to cruise guests by adapting opening hours to fit with scheduled ship calls, speaking in English, offering a gift or discount and, of course, smiling and being friendly.
The Ports of Toulon Bay started with 57 retail partners and now has 137 – a 150% rise in four years. This success has prompted several tourism authorities across Var Provence to introduce the quality label at ports and cities including Sanary, Bandol, Saint-Raphaël and Hyères. There are now 331 shopkeepers involved in the initiative, while Saint-Tropez, Le Castellet, Le Lavandou and Bormes-les-Mimosas are looking to implement the programme this year.
Following on from two years of intensive cruise seasons, the ports in the Var Provence region expect to welcome a collective total of 200,000 passengers during 204 cruise calls in 2018 – 20 less than 2017. Although ports such as Bandol, Porquerolles, Le Lavandou, St-Raphaël and Saint-Tropez will all welcome increased traffic, there will be a sharp drop in traffic at the Ports of Toulon Bay. This is primarily due to geopolitical issues decreasing US demand for Mediterranean cruises, as well as cruise operators repositioning ships to meet growing demand for Baltic itineraries.
For the first time, the Port of Saint-Tropez will be the busiest cruise port in the Var Provence network, hosting 80 calls in 2018. The destination is popular because of its worldwide reputation, the high demand from first-time cruisers who want to discover the city associated with French actress, singer and fashion model Brigitte Bardot, and the city's efficient marketing campaign.
Var Provence is an ideal destination for cruise guests who want to enjoy diverse shore excursions, and VPCC's team creates innovative offerings that are designed to surprise and delight every kind of cruise guest. Highlights include a private tour of the Toulon Opera House, a private dinner and concert on the Tour Royale Remparts of Toulon, late evening tours to enjoy the nightlife, and a 'Sweet tooth' excursion to chocolateries in Roquebrune near the St-Raphaël and Fréjus ports. New sustainable excursions include activities like cycling in salt marshes to watch pink flamingos and river kayaking alongside cliffs. In addition, the cities of Hyères and Toulon have introduced signposts to indicate shops and art galleries where cruise guests can meet with local artisans and discuss their inspirations and current projects.
These excursions, combined with efficient port services and friendly locals, make Var Provence an ideal destination for cruise operators looking to capitalise on current demand for experiential and personalised travel.
This article was first published in the Spring/Summer 2018 issue of the International Cruise and Ferry Review.