10.04.2018
Cruise to Livorno!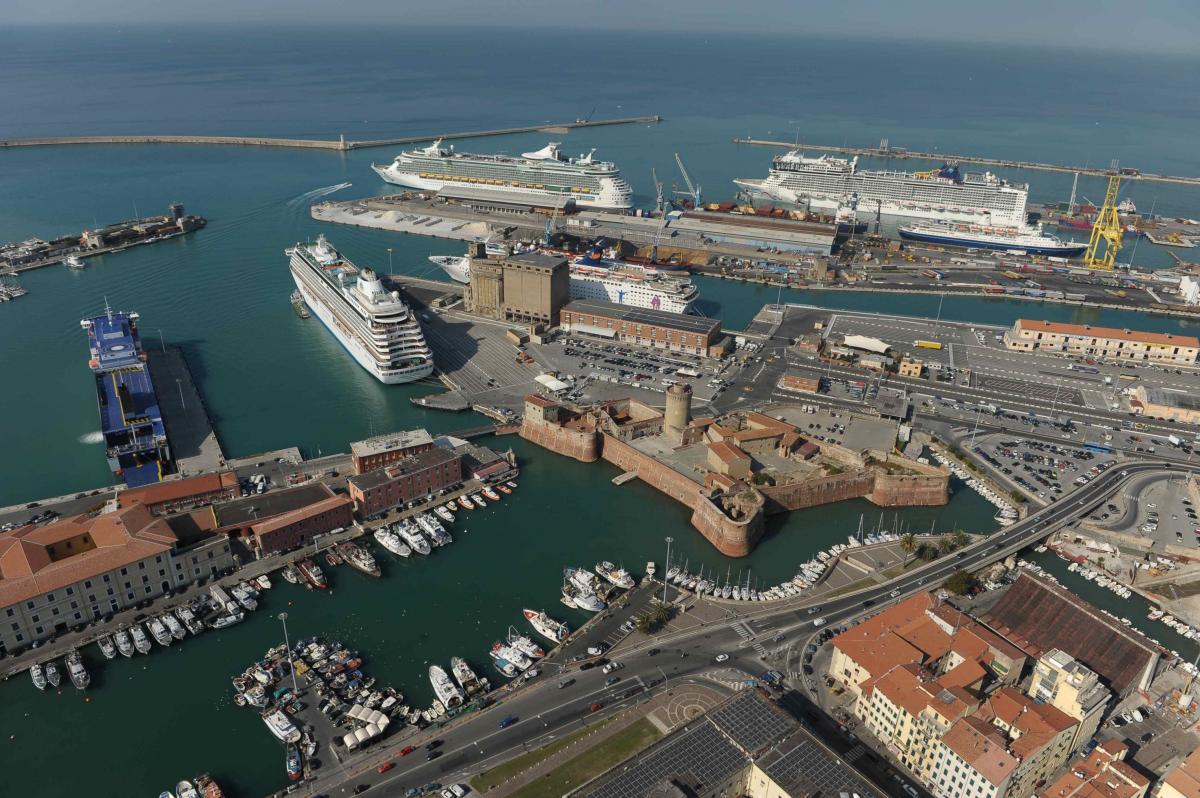 Cruise tο Livorno !
Livorno Port for Tuscany- is mainly a destination port but partial turn-around calls are increasing constantly. In 2016 Livorno port registered 403 calls and 808,000 cruise passengers, 10,000 of them embarking and disembarking. In 2017, a year of reduced deployments in all Mediterranean, there was a decrease to 341 calls for 698.780 passengers with same volume of turn-arounds, while in 2018 and 2019 more calls and turn-arounds are scheduled, reaching 750/800,000 passenger visits. The number of smaller, luxury ships berthing at the 'Medici Port' and overnight calls are also increasing.
The Port Authority and the Municipality of Livorno approved a project to extend the passenger port, providing new docks dedicated to cruise. The priority was given to the berths for cruise ships in the Alto Fondale pier, where an existing warehouse was already restructured, creating a new terminal for the mega cruise ships, with wide spaces and equipment for the turn-arounds.
The Passenger Port and a second terminal are located in the heart of the 'Medici Port', near one of the most impressive 16th century monuments, Fortezza Vecchia, where cultural and artistic activities happen.
Passengers can use the Port of Livorno shuttle-bus service from the berths to the city centre, passing through the old town and its system of canals and bridges. At walking distance from the bus stop it ispossible to visit: the antique market; small Cantinas alongside the canals, offering the typical fish soup Cacciucco; various museums and art exhibitions.
Pisa International Airport, located only a few km from Livorno, is well connected to many European destinations: Porto 2000 and Pisa Airport joined to ensure passengers the integrated transfer to the port.
The splendid art cities of Florence, Pisa, Siena and Lucca, can be reached quickly from Livorno's berths. World famous vineyards in Bolgheri, beaches, natural parks and Etruscan ruins represent alternatives to classic Tuscany tours.
Must see tourist attractions
Old and New Fortress
Mascagni Terrace, Promenade and Aquarium
Montenero Sanctuary
Bolgheri wine road
Venezia District
---
Port Facts
Maximum ship dimensions for berth

Length: Passenger Port: 250mtr; Alto Fondale 46/47 and commercial piers: no restriction

Draught: Passenger Port: 34ft; Alto Fondale 46/47 and commercial piers: 39ft

 

Anchorage

Available: yes

Ship tenders allowed: no

Tugs available: yes

Tidal movement/range: 0.3-0.4mt

 

 

Quays

Total number of quays: 9 

Total length of quays: 1,700mtr passenger port, 2,300mtr commercial piersQuay depth: 27mtr or more

Passenger terminals: 1 (3,000sq mtr)  and 1 (4,500sq mtr in course of restoration)

 

Distances/Transportation

City centre: 500mtr pass terminal

Airport: Pisa 15km, Florence 80km

Shuttle service to city: yes

Traffic

Total cruise passengers 2017: 700,000

Total cruise calls 2017: 342

Total cruise lines 2017: 29

Turnaround port? Yes, mainly interporting

 
Port Contact details
Main Contact
Luciano Guerrieri
President & CEO
P: +39 0586 202 901
Other Contact
Federica Matteucci
CFO & HR Director
Giovanni Spadoni
Technical & Commercial Director
Fabrizio Mazzei
Operations Manager
Serena Veroni
Marketing & Communication Manager
Mailing Address
Porto di Livorno 2000 s.r.l.
Terminal Crociere
Piazzale dei Marmi
57123 Livorno
Italy