16.04.2018
Malaga expects to reach 170000 cruise passengers during the spring season
A total of 108 vessels will visit the port from the end of March until June 30th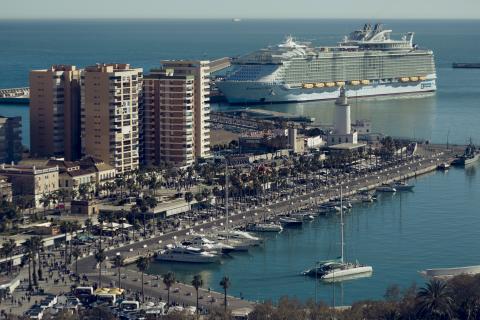 The Port of Málaga expects to achieve the arrival of 170,000 passengers on board of 108 cruise ships from March 20th to June 30th, consolidating the positive figures related to the same period of the last year. 
Marella Cruises will continue homeporting in Málaga, with 14 calls with start and end of itinerary during the Spring season, expected to continue in Summer and Autumn to complete the 35 homeport calls in 2018. This will mean about 41,000 passengers starting and/or ending their itineraries in the capital of Costa del Sol between March 20th and June 30th.
Marella Cruises' itineraries departing from Malaga will also be calling at other Andalusian ports, such as Almería or Cádiz, providing an increase in the movement of passengers in transit in these ports.
Also, 5 cruise ships will call simultaneously on April 26th, which will be the day with the greatest number of cruise calls in the whole year.
First calls
Spring season began with the worldwide presentation of 'Symphony of the Seas', which visited the Port of Málaga for the first time on March 27th. A few days later, 'Rhapsody' and 'Celestyal Olympia' visited the city for the first time, both starting their itineraries. In addition, another 7 ships belonging to Holland America Lines, Marella Cruises, Aida Cruises, Carnival Cruise Lines or Seabourn Cruise Line, among others, will visit Málaga for the first time during the Spring.
Spring: high season in cruise traffic 
Once again, Spring is, together with Autumn, one of the peak seasons for the Port of Málaga in cruise traffic. In fact, April is expected to register the second highest number of calls of the year (52), only exceeded by October (54).