09.05.2018
Port of Barcelona: Inauguration of the new Carnival's Corporation Helix Terminal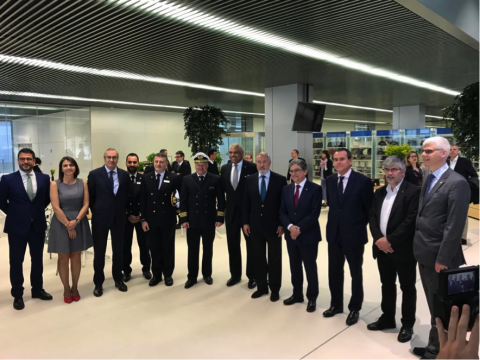 MedCruise President Airam Díaz Pastor attended Carnival's Corporation second cruise terminal official opening at the Port of Barcelona which took place last Saturday May 5th with an inauguration ceremony attended by government, business and community representatives.
The new terminal, in which Carnival Corporation, the biggest cruise corporation of the world, has invested 30MM Euros, is located on the port's Adossat wharf. It features 12,500 square meters distributed in two floors and it's linked to the Palacruceros terminal that Carnival opened in the port of Barcelona in 2007.
In addition, the Helix terminal will have the capacity to accommodate the new class of next-generation "green" cruise ships that will be fully operated by liquefied natural gas (LNG).
"After years of working closely with our extraordinary partners in Barcelona, including the port, its support network of local businesses and the city, we are absolutely thrilled to introduce our world-class Helix cruise centre to welcome guests from around the world to Europe's best-loved cruise port and to Barcelona, one of the world's greatest cities and regions," said Giora Israel, senior vice president of global ports and destination development for Carnival Corporation. 
Eight brands from Carnival Corporation - AIDA Cruises, Carnival Cruise Line, Costa Cruises, Cunard, Holland America Line, Princess Cruises, Seabourn and P&O Cruises (UK) - will be visiting the terminal this year, accommodating over one million passengers' movements at the port in 2018.