24.05.2018
Gibraltar welcomed Seabourn Ovation in her inaugural call
#VISITGIBRALTAR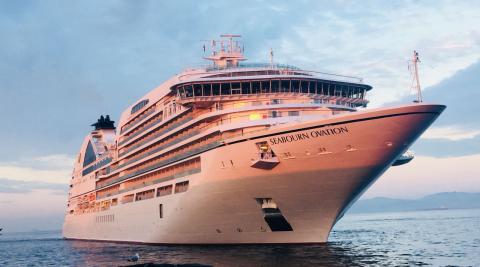 The 40,350 ton, 604 passenger cruise ship Seabourn Ovation made its inaugural visit to Gibraltar on Monday 21st May. Like sister ship Seabourn Encore, which made its inaugural call to Gibraltar on 11th Aug 2017, it is an encore-class cruise ship built by Fincantieri and is 26% larger than the older Seabourn ships. The ship was launched on 11th May 2018 in the port of Valetta, Malta by British singer and actress Elaine Page.
Seabourn Ovation is the fifth ship to be delivered to owners Seabourn Cruise Line in the last decade. The ship is a luxury vessel with all passenger cabins being suites and having their own private veranda.
Having recently completed its maiden voyage, Seabourn Ovation will be spending the rest of its inaugural season visiting ports in the United Kingdom, Mediterranean and Northern Europe before moving on to the Baltic.
Representatives from the Gibraltar Tourist Board, the Gibraltar Port Authority and local shipping agents MH Bland attended the customary ceremony on board, where an exchange of plaques took place with the Captain of the ship.