03.08.2018
Port of Zadar finishes the last phase of the project ¨New passenger port Gazenica, Zadar¨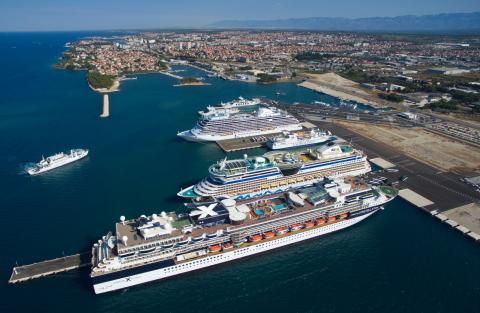 The biggest ZPA project is New passenger port Gazenica Zadar, located just 3km from city centre, with direct highway connection and Airport located just 5km from the New port of Gazenica, Zadar. City of Zadar is 3000 years old historical UNESCO site, situated just in the middle of Croatian coast with exceptional ¨shorex¨ possibilities (Plitvice lakes, Krka Waterfalls, Kornati Islands, Island of Pag, City of Nin, City of Sibenik, ...).
10 years ago Zadar PA started to develop cruise activities in Zadar port area, first, let's say so, with temporary solution in the old city port (small cruise pier with, today world famous, ¨sea organ¨), and after that in New passenger port of Gazenica (178 mill euro investment in new passenger port to relocate all domestic and international ferry and cruise traffic from congested historical city centre). With this project we resolved many infrastructural, ecological and traffic issues in City of Zadar.
Today, the port has possibility to accept 5 cruise or/and international ferries (5 International berths and 7 domestic). Port has more than 2,5 million passengers per year (mainly domestic) but with new infrastructure ZPA increased number of cruise passengers in just few years (from 20000 to 138000 in 2017). For 2018 we expect about 135 calls and approx. 160000 cruise passengers).
Few days ago (On 20th of July) Port of Zadar Authority finished the last phase of New port Gazenica Project – construction of new terminal building The tender documents for the selection of the concessionaire who would operate the future terminal building was published in November 2017. Who will run the terminal building in Gazenica? We will inform you very soon.