03.10.2018
The port of Palamós welcomes the cruise ship 'Aidacara' for the first time, with over a thousand passengers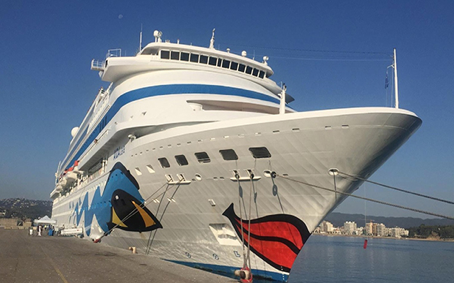 The Aidacara made its inaugural call at the port of Palamós, closing the September port calls that have brought almost 5,000 passengers
The return of the company Aida Cruises is a sign of renewed interest by the German tourist industry, thanks to the effort made to promote the Costa Brava Cruise Ports brand to attract more cruise ship calls and new shipping companies
Last Saturday, the Aidacara made the season's first and only call at the port of Palamós (Baix Empordà), with 1,135 passengers, 96% of them German, who were able to visit the town of Palamós and its environs. During the morning, some of them also visited the old centre and Jewish quarter of Girona, Besalú, the medieval villages of Pals and Peratallada, Tossa de Mar, the Dalí Museum in Figueres and the Gala Dalí Castle in Púbol.
The vessel arrived at 10.00 am from the port of Valencia and was scheduled to leave at 7.30 pm, bound for the port of Mahon, in Menorca. The Aidacara has 11 decks, 590 cabins, restaurants, bars, a theatre, a fitness centre, a solarium, a spa and a swimming pool, among other services. As regards its technical features, the vessel has a length of 193 metres, a beam of 27.6 metres and a gross tonnage of 38,557 tonnes.
The Aidacara cruise ship belongs to the German shipping line AIDA Cruises, which in turn is part of the Carnival Corporation group. AIDA Cruises has showcased contemporary art from the very beginning. In 1996, it commissioned the artist Feliks Bütter to decorate its vessels, and the red lips painted on the ships' prow have become one of the company's hallmarks. Since then, AIDA Cruises has unconditionally supported contemporary art, providing facilities on some of its cruise ships for art exhibitions and auctions.
The port of Palamós is now entering the last leg of the season, which will officially end on 9 November. Last Saturday, the Aidacara closed the September port calls, during which five cruise ships and almost 5,000 passengers have called at the town. This month, apart from the Aidacara, the port has also been visited by the ships Seadream I and Seabourn Encore, with one call each, and the Marella Dream, with two calls.
Costa Brava Cruise Ports
The arrival of AIDA Cruises at Palamós is the result of the promotional effort made by the institutions grouped in Costa Brava Cruise Ports on the main cruise forums, with the goal of attracting new lines, more calls and more passengers. As members of Costa Brava Cruise Ports, the following institutions represent the port of Palamós and its tourist destination: Ports de la Generalitat, Palamós Town Council, the Costa Brava Girona Tourist Board, and the Palamós Chamber of Commerce.
29 September 2018