22.10.2018
Ports of Toulon Bay welcomed simultaneously for the very first time the two cruise ships SEABOURN OVATION and NAUTICA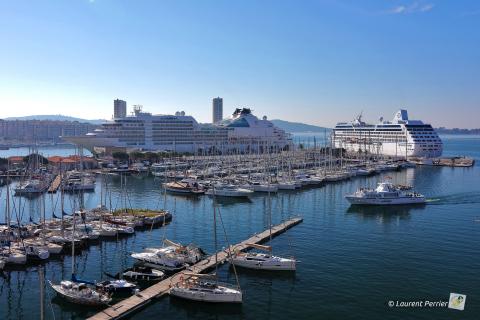 Yesterday, under a shiny clear blue sky, the ports of Toulon Bay had the privilege to welcome simultaneously for the very first time the two cruise ships SEABOURN OVATION and NAUTICA.
To celebrate that unique day, the visitors were granted by a very special welcome under the thematic of "A day in Provence".
If it is not the first time that Toulon welcomes 2 maiden calls the same day, it is the very first time that 2 maiden calls are welcomed at Toulon downtown cruise Terminal. Additionally, with two luxury cruise brands! Those calls are the opening of a more intensive program for 2019, for the two brands: 5 calls for THE YACHTS OF SEABOURN and 8 calls for OCEANIA CRUISES.
A day in provence
To celebrate this day, a full program of activities has been tailored and offered to the guests, visitors and top management of both ships. All day long, in a Provencal setting (the cruise terminal was converted into a Provencal village) they have been offered to share the typical Provencal way of life by playing bowls game ("pétanque"), tasting Provencal delicacies and rosé wine, enjoying the non-stop show of musicians and dancers of a Provencal folkloric group and so on…
After the traditional keys & plaques ceremonies, the two masters and their management staff have been invited ashore to start by a Provencal bowls contest (Winners' team: Nautica!) before sharing a lunch on the Marina together with representatives of the port community.
Seabourn and Toulon
Even though Seabourn was not calling to Toulon under a regular basis until now, and mostly for back up calls, it seems however that the experience has been satisfying enough as the company has scheduled 5 calls in 2019.
Oceania cruises et Toulon
Oceania however counts amongst the loyal customer of Ports of Toulon Bay as the company is  calling here for years with an average of 5 calls per year (+ 5 more for her sister company Regent Seven Seas) and confirm her attachment to the port and destination with 8 calls scheduled in 2019.
PORTS OF TOULON BAY: AN UPMARKET MOVE OF ITS CRUISE ACTIVITY
The strengthened presence of upmarket brands in Toulon is not new but a real trend that seems to be maintained over time. That is a fact that the Var Chamber of Commerce and Industry who is running both cruise promotion and port operations is reaping the benefits of its strategy of differentiation through the quality of its offer, whether in terms of facilities, services or customer experience. A strategy that has been set and implemented in recent years and which has clearly resulted in the massive arrival of high-end companies.