18.02.2019
New Mein Schiff 2 christened in Lisbon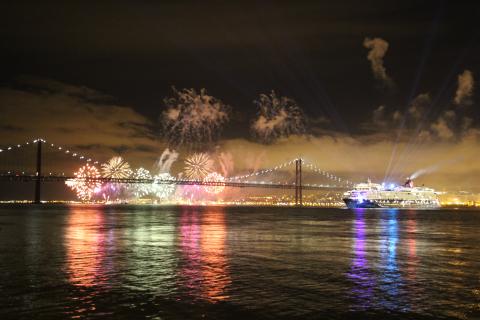 The new cruise ship Mein Schiff 2 was christened in Lisbon on February 9, 2019, the first time ever cruise ship christening ceremony in Lisbon! On March 6, it will be the the old Mein Schiff 2 to be baptized with her current name Mein Schiff Herz.
On its maiden voyage between Bremerhaven and Las Palmas de Gran Canaria, Mein Schiff 2 arrived in Lisbon on the morning of February 8, where she remained until the 10th.
During the ceremony the ship was positioned next to the 25 of April Bridge and the fireworks enlightened the city.
For the port of Lisbon "This was a very important event that shows the recognition of the work we have been developing is changing the way the industry sees Lisbon. We are sure that this is the way forward and every day we feel more motivated to continue, "says Lídia Sequeira, President of APL, SA.
On February 8th, the usual welcome ceremony was held aboard the ship, in which the port of Lisbon presented the Captain Kjell Holm with the usual commemorative crest, passengers received gifts specially produced for the occasion, and the ship was escorted by tugboats from the Svitzer Portugal.