19.06.2019
Port of Lisbon once again elected best cruise port in Europe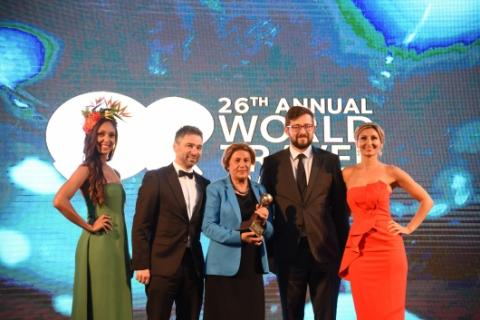 The Port of Lisbon won, for the fourth year in a row, and for the fifth time, the prize for the best cruise port in Europe, which was the 26th edition of the World Travel Awards Europe, held on 8th June in Funchal.
The Minister of the Sea welcomed this prize that represents the result of the Strategy for the Increase of Portuguese Port Competitiveness, which also reflects the recognition for the work carried out in reinforcing the importance of Portugal Blue Economy.
It was also with great pride that the Port of Lisbon Authority received the news of this prize, which constitutes a proof of the international recognition of the city of Lisbon and the commitment that the Port of Lisbon together with Lisbon Cruise Port (Cruise Terminal Operator) and all stakeholders involved had to promote Lisbon as one of the most privileged destinations for ships and cruise passengers. On the other hand, it reinforces the good performance and capacity of the Port of Lisbon regarding the cruise sector, in line with the good results recorded over the last years.
The World Travel Awards distinguish the best examples of good practices in the tourism sector, and it is in this sense that APL has worked and will continue to work, together with the LCP concessionaire in pursuit of a common goal: to enhance the port and the city of Lisbon as a destination of cruises of excellence.
Since 2009, when the city of Lisbon was chosen as the best cruise destination in Europe, in the World Travel Awards Europe held in Óbidos, the port and the city of Lisbon have been nominated for the World Travel Awards, at European and World level, for the best cruise port and destination categories, having won the two categories in the World Travel Awards Europe in 2014, 2016, 2017 and 2018.
Nominees
The following nominees (listed alphabetically) were nominated for Europe's Leading Cruise Port:
Antalya Cruise Port, Turkey
Barcelona Cruise Port, Spain
Copenhagen Malmö Port, Denmark
Ege Port - Kuşadası, Turkey
Port of Amsterdam, Netherlands
Port of Heraklion, Greece
Port of Istanbul, Turkey
Port of Marseille Fos, France
Port of Piraeus, Athens, Greece
Port of Southampton, England
Port of Split, Croatia
Venice Cruise Port, Italy
Source: www.worldtravelawards.com