15.06.2019
The Marseille Provence Cruise Club launches the "Blue Maritime Summit Marseille Provence – Cruise Initiatives"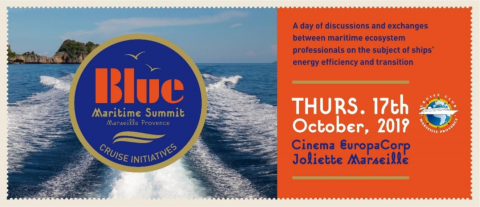 The Marseille Provence Cruise Club launches the "Blue Maritime Summit Marseille Provence – Cruise Initiatives", welcoming all professionals of maritime ecosystem to participate to act green, for a sustainable and responsible cruise industry.
The cruise sector generates economic benefits for local regions, but this is no longer sufficient. Pollution of the air and seas and people's health increasingly have become concerns for communities and new societal needs have emerged: people want a more virtuous economy based on sustainable and responsible development.
Mindful of this new movement, of which it is vital to be a part, the Marseille Provence Cruise Club is for the first time organising an event on the theme of cruise ship energy efficiency and transition, the "Blue Maritime Summit Marseille Provence – Cruise Initiatives", on the 17th of October, 2019 – Full day, at the EuropaCorp La Joliette Marseille Cinema.
This French-English event with a technical focus intends taking existing or upcoming virtuous initiatives in the cruise sector and widening the field to bring in other branches of the shipping business and thus foster cross-sector exchanges and a sharing of good practices, with the aim of establishing visions for environmental transition within the shipping industry.
The aims of this day-long event are numerous: to promote responsible and integrated cruising by showcasing the various solutions and innovations already in place or in the pipeline and to demonstrate the economic opportunities for the region (new industries that will lead to new added value being created regionally).