29.05.2019
Memorandum of Understanding between Hellenic Port Association and MedCruise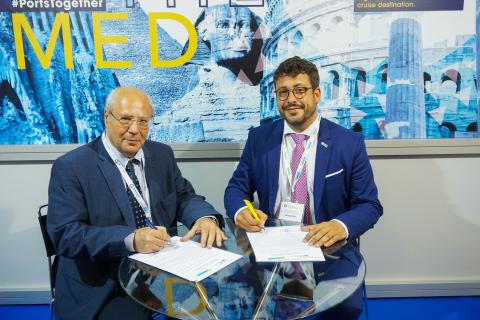 ELIME, the Hellenic Port Association, and MedCruise, agree to cooperate in issues of common interest for the benefit of their respective members.
The Organisations recognise that they each have common areas of expertise and target and, further, that they each represent a membership that is broader than the segment that is common to them both.
ELIME focuses on promoting the interests of the port industry within Greece, which involves all types of port business including cruise.
The MedCruise mission is to promote a sustainable cruise business in ports and destinations in the Mediterranean Sea, Black Sea, Red Sea, Adriatic and nearby Atlantic.
ELIME and MedCruise will cooperate to share statistics and studies of common interest. The Organisations will contribute together to promote the cruise business and will coordinate themselves, where appropriate, to present a unified position to support sustainable cruise growth before Greek Government, local authorities and other stakeholders. MedCruise will support ELIME concerns before the European Union organizations.
Both Organizations will collaborate in whatever initiatives could be of common interest regarding the cruise business and will deal together challenges related to the cruise industry.
The Organisations will work together to discuss the development and adaptation of port facilities to the new shipbuilding and new technologies in order to be ready on time for the latest building trends such as provision of LNG to cruise ships.