29.04.2014
On the course of Expansion in the Black Sea: MedCruise holds meetings with Trabzon port and officials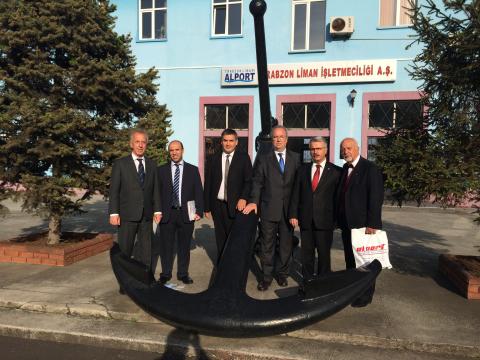 MedCruise membership expands in the Black Sea with the Port of Trabzon being the latest port in the region to express the wish to be member of the MedCruise family. MedCruise President Stavros Hatzakos and Secretary General Thanos Pallis completed an invited visit to Trabzon that has already applied to be a new member of the association.
MedCruise is now representing cruise ports hosting more than 80% of cruise traffic in the Med and its adjoining seas - more on the issue to follow.
During their visit, the MedCruise team held meetings and discussed the prospects of cruise expansion in the region with the Governor of Trabzon Honorable Mr. A. Celil Öz, the Mayor of Trabzon Mr. O. Fevzi Gümrükçüoğlu, the President of the Trabzon Chamber of Commerce and Industry, Mr. M. Suat Hacisalihoğlu and the General Manager of Trabzon Port (Alport Port) Mr. Muzaffer Ermiş.
The application of the port of the Trabzon has been submitted at the same time with that of the port of Istanbul (Salıpazarı Liman İşletmeciliğive Yatırımları A.Ş.) marking the increased significance of MedCruise in promoting cruise activities in the Med and its adjoining seas.
The completion of the accession to the 70-port members strong MedCruise will be formalised during the 44th MedCruise Association in Castellon Spain, the key cruise event of the Spring in Europe, to be held 21-25 May 2014.