Cristina De Gregori, Director - Projects & Studies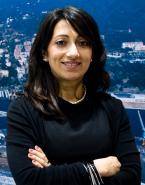 In this period of momentous change in the cruise industry, characterised by the advent of ultra-large vessels and the first fully LNG-powered cruise ships, the role of MedCruise has become increasingly crucial in providing members with the opportunity to share the invaluable experience and knowhow acquired directly on site. With this aim, the Project and Studies mandate which has been assigned to me, is a key sector from which we can analyse the present situation, implement an action plan and develop best practice guidelines for today's challenges of sustainability.
I look forward to working closely with all our members.