04.03.2019
MedCruise Association launched a new Working Group in Tunis to promote the North Africa region as cruise destination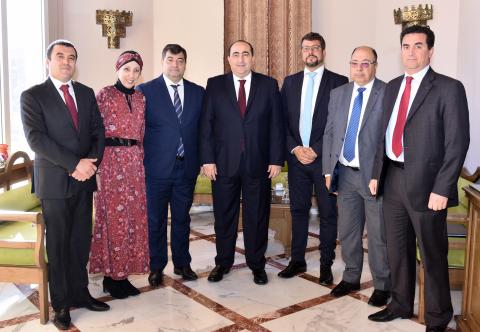 MedCruise President, Airam Diaz Pastor, and MedCruise Director for North Africa, Cherifa Ben Salem, together with the Tunisian Minster for Transport, Hichem Ben Ahmed, Tunisian Minister for Tourism, Renée Trabelsi, the CEO of Office de la Marine Marchande et des Ports, Sami Battikh, the General Manager of Al Karama Holding, Adel Grar, and Port La Goulette Director, Mohamed Omrane, launched last week in Tunis the MedCruise Working Group on North Africa.
The launching of this Working Group comes after the Working Plan presented by MedCruise President during the 51st MedCruise General Assembly held in Toulon in October 2017 and the agreement of all Board of Directors members in developing the Working Group and being led by Ben Salem, which is focused on promoting the cruise activities in North Africa as well as developing cruise itineraries in the region.
The Working Group is composed by MedCruise members from the region -Port of Tangier, Port of Ceuta, Tunisian Ports and Egyptian Ports- as well as the associate members such as La Goulette Shipping Cruise, Mercantile Marine Shipping, Algeria Cruise Services and Ceuta Tourism Board. MedCruise Director for Events and Port of Gibraltar representative, Nicky Guerrero, and MedCruise Ambassador, Lotfi El Ajmi, also attended the meeting. The attendees had the opportunity to discuss about the situation of the cruise industry in that region and also elaborate a road map composed by a sort of actions to be implemented in the following months.
During his intervention, MedCruise President, highlighted the potential of this MedCruise region due to the increase of the tourism in Northern African countries and the optimistic forecast for the coming years. "The launching of this Working Group will have a positive impact at the cruise industry in the whole Mediterranean region and bring new opportunities to the cruise-industry-related-companies that operate here".
On the other hand, Ben Salem remarked the "necessity of working together and sharing best practices among the Working Group members, which will lead to a common strategy for promotion".
Next meetings to be held in Kusadasi, hosting port of the upcoming MedCruise General Assembly, and in Port of Alexandria.