05.07.2017
Kusadasi and Bodrum achieve 'Green Port' certification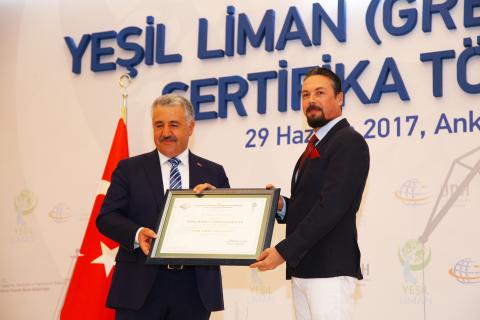 Kusadasi and Bodrum cruise ports, operated by Global Ports Holding ("GPH") – the world's largest cruise port operator – have been awarded 'Green Port' certification in recognition of their environmental and corporate responsibility credentials. 
The certificates were presented to Aziz Güngör, General Manager of Ege Port Kuşadası and Bodrum Cruise Port, by the minister of Transportation, Maritime Affairs and Communications of Turkey, at a ceremony held in Ankara on 29 June. 
The two cruise ports are the first in Turkey to achieve this milestone, which reflects the importance of social and ecological impact across GPH's operational culture. Ege Port Kuşadası first applied for Green Port accreditation in 2012 and Bodrum Cruise Port in 2014.
Aziz Güngör, General Manager of Ege Port Kuşadası and Bodrum Cruise Port, said:
These two ports are in critical locations for cruise tourism in Turkey and the wider Eastern Mediterranean region. We have an important mission to help to support the development of cruise tourism in the area. Our ecological credentials are an important mark of quality and these Green Port certificates underline the progress we have made in this respect.
Emre Sayın, CEO of Global Ports Holding said: 
We currently operate 14 ports across eight countries, with ambitious plans to expand our operations further in Asia and the Caribbean. As we continue to grow and apply our unique business model, it is rewarding to get acknowledgement of the high levels of environmental and corporate responsibility that we have demonstrated. We are delighted that Ege Port Kuşadası and Bodrum Cruise Port have been recognized in this manner. As a global brand, we have made the principle of contributing to the communities in which we operate, including environmental considerations, a key element of our business model.
About the Global Ports Holding 
Global Ports Holding (GPH) is the world's largest cruise port operator with an established presence in the Mediterranean, Atlantic and Asia-Pacific regions, including extensive commercial port operations in Turkey and Montenegro. 
As an independent cruise port operator, the group holds a unique position in the cruise port landscape, positioning itself as the world's leading cruise port brand. GPH operates 14 ports in 8 countries namely; Antalya, Bar, Barcelona, Bodrum, Cagliari, Catania, Dubrovnik, Kusadasi, Lisbon, Malaga, Ravenna, Singapore, Venice and Valletta. GPH provides services for 7.8 million passengers reaching a market share of 25% in the Mediterranean annually.
A portfolio of award-winning ports and terminals allows GPH to transfer best practices to its subsidiaries. With a strong focus on operational excellence, enhanced security practices and customer-oriented services, GPH aims to contribute to the development of the cruise industry. 
About the Green Port Certificate 
The Green Port project sets out a number of best practice parameters for environmental management and corporate responsibility, in relation to the international marine, ports and terminals sector, which includes shipping, transport and logistics. Ports that apply for accreditation and fulfill the necessary processes, which are in lined with international standards, are registered by the Ministry with a "Green Port" certificate.