17.10.2018
Seatrade Cruise Asia Pacific 2018, Shanghai, China, 23-25 October, 2018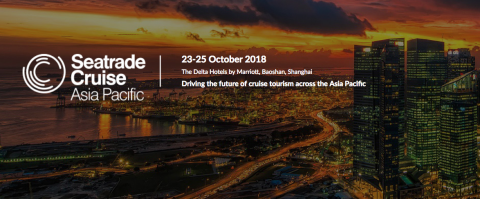 Seatrade Cruise Cruise Asia Pacific 2018 will take place in Shanghai, China, on 23-25 October 2018.
Seatrade Cruise Asia Pacific is Asia Pacific's leading cruise industry event and gateway for the international cruise community. Welcoming over 900 attendees, the event brings together a network of powerful industry influencers and cruise line executives to China for three days.
As the popularity of cruise in Asia continues to soar, Seatrade Cruise Asia Pacific will become more than just a cruise conference. This is your platform to learn, network and discover new partnership opportunities.
MedCruise will be participating in Seatrade Cruise Asia Pacific 2018 as official sponsor of the Travel Agent Training workshop, which is set to take place on the final day of the event and will be attended by agents from across both Asia and the wider industry.
Provided by Cruise Lines International Association (CLIA), the Travel Agent Training workshop at Seatrade Cruise Asia Pacific will be delivered by two industry stakeholders: Peter Kollar, Head of International Training & Development, Cruise Lines International Association and Carla Salvadó, MedCruise Honorary President, Member of the BoD, and Director of Mature and New Source Markets.
"The objective of MedCruise during the Travel Agent Training workshop is to educate attendees about the attributes about the Mediterranean region, of which are appreciated by the Chinese market," said Salvadó, and added, "A key objective of the MedCruise strategy for China is to raise the awareness of cruising across the Mediterranean region to the Chinese market. With so many destinations and cultures, the Mediterranean is the ideal sea for cruising and its attributes compliment the factors that the Chinese consider when travelling across Europe".
For more information, please visit this
link. 
Source: Seatrade-cruise