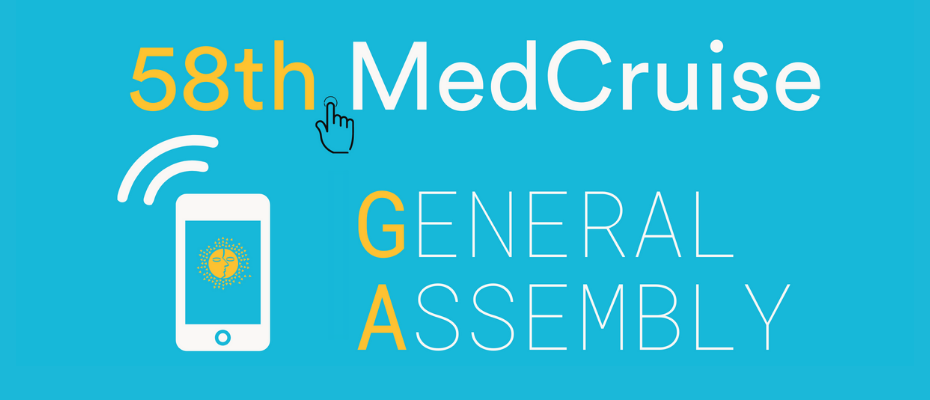 58th MedCruise General Assembly | Online
The 58th MedCruise General Assembly will take place online on May, 2021.  This is a Members-only event including Internal Matters Session and B2B meetings.
Agenda:
Wednesday, 26 May 2021
11:00 – 14:00

148th Board of Directors (BoD) meeting
Thursday, 27 May 2021
11:00 – 15:00

Mercy Ships Presentation

58th Discussion of Internal Matters (exclusively addressed to MedCruise members)
Friday, 28 May 2021
Timetable TBA

B2B Meetings
Friday, 4 June 2021
Timetable TBA

B2B Meetings
We are more than pleased to communicate that 13 cruise lines representatives from 9 cruise lines have confirmed so far their participation in the B2B meetings to be held online on Friday, May 28 and Friday, June 4, 2021, in the context of 58th MedCruise General Assembly.
The list of cruise lines guests to have confirmed to join the B2B meetings is as follows:
Michael Pawlus, Strategic Itinerary & Destination Planning Director, Azamara
Ugo Savino, Deployment & Itinerary Planning Director, Carnival Cruise Line
Claudius Docecal, Deployment, VP, Crystal Cruises
Elisabetta De Nardo, Port Development, VP, MSC Cruises
Michael Braathen, Shore Excursions Operations, Manager, Mystic Cruises
Alessandro Carollo, EMEA, Director, Royal Caribbean Group
Spyros Almpertis, Port Operations, Senior Director, Silversea
Frederique Patry, Itinerary Planning, Senior Manager, Silversea
Marcus Puttich, Port & Ground Operations, Nautical Fleet & Health, Head, TUI Cruises
Siljia Eisbein, Mediterranean Itinerary, Manager, TUI Cruises
Maria Tauschke, Port & Ground Operations, Manager, TUI Cruises
Verena Engel, Port & Ground Operations, Junior Manager, TUI Cruises
Nicolai Skogland, Port Operations, Director, Viking Cruises
Michel Nestour, VP-Global Port Destination & Development-EuroMed, Carnival Corporation
Richard Cooke, Commercial and Project Manager, Global Port and Destination Development, Carnival Corporation
⚠️ The link to prioritise MedCruise members preferences will be sent on Monday 17 May and you will be invited to rank your priorities the soonest possible, yet not later than TUESDAY 18 MAY, 20:00 CET.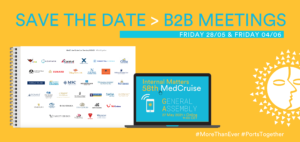 The B2B meetings will be organised as always on a First-Come First-Served basis, and is expected that each participating member will have the opportunity of 5-6 meetings with cruise lines, lasting 10 minutes each.