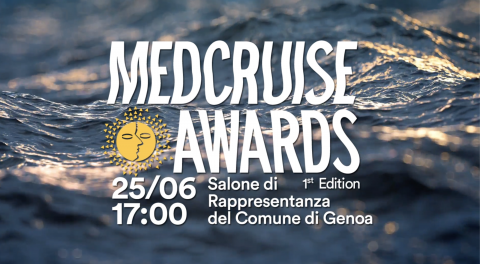 MedCruise Awards 1st Edition June 25 Genoa
The first edition of the MedCruise Awards will take place on June 25th, 2019 in Genoa. This major cruise event is proudly hosted by our founding member, Autorità di Sistema Portuale del Mare Adriatico Meridionale, in a city that offers premier cruise business opportunities in the heart of the Mediterranean Sea.
The MedCruise Awards are bringing together MedCruise members and their partners as well as our invited guests –cruise line executives and international press representatives- and aim to recognise companies, organisations and individuals who are working harder to promote the sustainable growth of the cruise activities in the Mediterranean and its adjoining seas.
The first edition of the MedCruise Awards integrates several categories with different juries composed by cruise industry experts, where some prizes are given based on jury members' opinion and others based on facts.
Categories of the awards:
Cruise Line Executive Showing the Greatest Commitment during the 52nd MedCruise General Assembly held in La Valletta
Cruise Line Executive Showing the Greatest Commitment during the 54th MedCruise General Assembly held in Kusadasi
Best Port from the West Med Region of MedCruise
Best Port from the Adriatic Sea Region of MedCruise
Best Port from the East Med Region of MedCruise
Best Port from the Black Sea Region of MedCruise
Associate Member with the Most Efficient Shorex Agent and tour operator
Associate Member with the Most Efficient Port Agent
Associate Member with the Most Efficient Cruise Terminal
Associate Member with the Most Proactive Tourist Board/Municipality
Award for the Best Cruise Industry publication
Lifetime Recognition Award
Award for the Cruise Line with the Highest Number of Calls in all the MedCruise Regions
Award for the Cruise Line Group/Holding with Highest Number of Calls in all the MedCruise Regions
Award for the Luxury Cruise Line with the Highest Number of Calls in all the MedCruise Regions
Award for the Cruise Line with the Greatest Commitment to the East Med Region
Award for the Cruise Line with the Greatest Investment and Commitment to the Environment and Sustainability
Award for the Cruise Line with the Greatest Charity Program
Award for the Cruise Line with the Highest Attendance in MedCruise General Assemblies