The World cruise ship was back to the Port of Leixões on September 16. The ship stayed for 3 days at Leixões.
The ship arrived at the North Cruise Terminal with 140 guests on board and during the weekend nearly 100 guests will embark and disembark the ship at Leixões.
The 2002-built cruise ship is currently the world's largest privately-owned cruise vessel. She serves as a residential community and is owned by its residents. This luxurious cruise ship travels the globe, staying from 2 to 5 days in most ports of call. Before Leixões the ship was in RINGASKIDDY (Cork), Ireland and is heading TANGER MED in Morocco.
The World is a private residential cruise ship operated like a condominium complex, with large apartments that can be purchased. The residents, from many countries, can live on board full-time while others visit periodically throughout the year. She has 165 residences all owned by the ship's residents.
As of 28 January 2017, The World holds the world record for the southernmost ship voyage. The ship reached at the Bay of Whales in Antarctica's Ross Sea.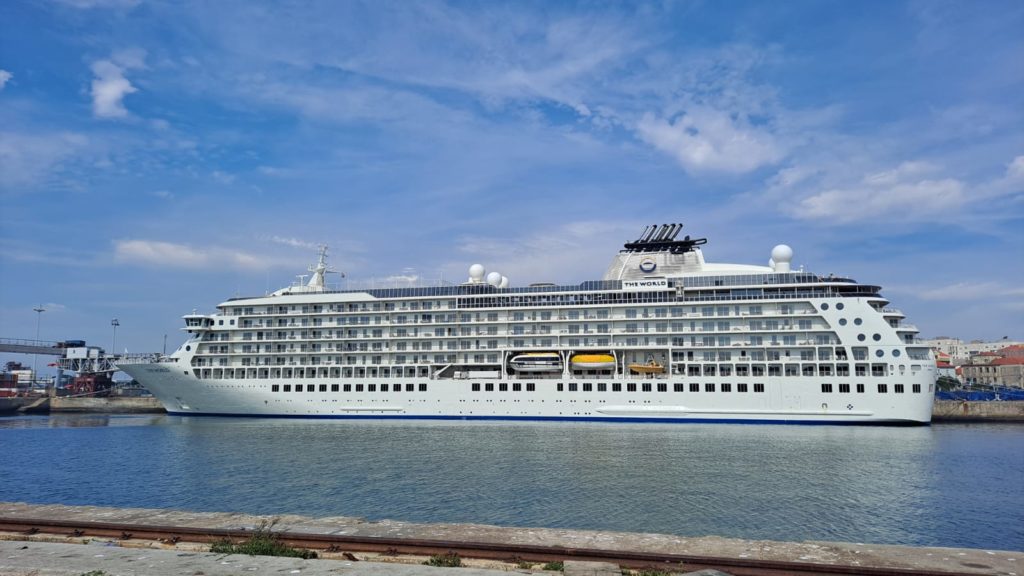 _________
On September 17, our Porto Cruise Terminal welcomed the inaugural call of the Celebrity Apex cruise ship.
She was on a 12 days voyage from Amsterdam to Civitavecchia (Rome) with almost 2.700 passengers on board, mostly from North America. This itinerary also included visits to La Rochelle, Bilbao, La Coruña, Lisbon, Cadiz, Gibraltar and Cartagena.
The Celebrity Apex is one of the newest ships operated by Celebrity Cruises and is 306 meters long and 130.818 GT.
As usual in these occasions, a Plaques Exchange Ceremony was held at the Porto Cruise Terminal with Port Authorities and ship's Captain celebrating the first call of Celebrity Apex to the port.