The maritime passenger ship AMERA closed, on October 29th, 2019, the cruise season in Constanta Port.
The Bahamas-flagged ship has 754 passengers on board, most of them Germans, and a crew of 459 people. The foreign tourists will take trips to Constanta county, Bucharest and Danube Delta.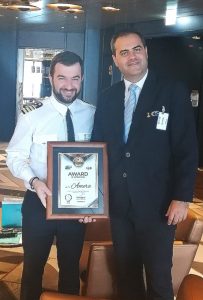 After a period when the geopolitical context in the region has kept away from the Black Sea the maritime passenger ships, AMERA is the first maritime passenger ship calling to Constanta Port.
This year, 21 calls of cruise ships, most of them river ships, have been registered in the passenger terminal of Constanta Port.
They have brought to Constanta over 3,000 foreign tourists.
At the moment, the bookings for the coming years are announcing the revival of cruise tourism in Constanta Port, maritime passenger ships with large capacity have already announced their calls for the next three years.
At the moment, for 2020 Constanta Port has registered 10 bookings for maritime passenger ships, of which five have a capacity of 800 to 1,500 passengers, including Azamara Journey, Aegean Odyssey, Boudicca, Albatros, Crown Iris.
For 2021, 9 bookings for maritime passenger ships are already registered and there is a tendency to increase their number.
At this point there is also a booking for 2022, for Crystal Symphony, a maritime passenger ship with a capacity of 848 passengers.
From 2017, Constanta Port holds the position of member of the Board of Directors of MedCruise, having the responsibility for the Black Sea. In this capacity, together with the ports of Odessa, Burgas and Varna, Constanta Port is promoting the revival of cruise tourism in the Black Sea, affected in recent years by the tense geopolitical situation. It is an opportunity for initiating and supporting direct connections with important actors in the cruise tourism industry, with the aim of creating new routes including Constanta Port and Romania as a touristic destination.